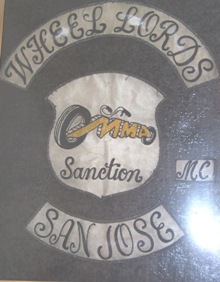 Fourth of July 1977 Party at Rocky's
Eastside San Jose
Check out the movie "The Hisory of the Chopper" by Jesse James. It has a scene where one our members can be seen from back in the day.

The Wheel Lords MC was born in 1973 in San Jose California. We were one of the original freedom fighters working for the rights of motorcyclists. We supported the Modified Motorcycle Association for quite a number of years with each member being a Gold card holder.
Although the club has been gone for nearly 30 years the remaining members still are a close knit bunch visiting and communicating with each other after all these years.
This page is a memorial page for our Brothers that have passed on to the big club house in the sky. May they ride forever!
Please sign the guest book to let us know you were here. It is on the right hand side.
5 Year Anniversary
Black Butte 1983
WLMCSJ
13 Year Anniversary
10 Year anniversay
The Dons
Two Brothers came for my 50th Birthday.
Magazine that had comments from the
Wheel Lords in the editorial.
Correspondence
Last edited 1/4/09